We are in the midst of an unprecedented energy transition. Billions of dollars are being invested in renewable energy and the electrification of heat and transportation. Yet none of this would be possible without one crucial but often overlooked element: cables.
"Cables are like arteries and veins", says Srinivas Siripurapu PhD, Chief Innovation Officer at Prysmian Group, the world's leading cable manufacturer. "All the organs in our body stay healthy through blood flowing through arteries and veins. Likewise the energy transition value chain and the large scale investments in the entire ecosystem can only be enabled when you have reliable cables."
The concept of technological innovation lies at the heart of Prysmian Group which, being positioned at the top end in high-tech markets, offers the widest range of products, services, technologies and expertise.
"For us at Prysmian Group, innovating means seeing the continually changing needs of our customers and of the community. Cables connect the world and our innovative products and services have a real impact in the sustainable transfer of energy and telecommunications. We have strengthened our focus both on innovation and sustainability. I feel fortunate to belong to a Group that adds value to the world."
With more than a century's history, innovation is a fundamental part of Prysmian Group's DNA. The areas of interest always depend on market trends and customer needs. But at this moment, there are three main drivers for innovation: energy transition, digitalisation and sustainability.
In order to encourage environmentally friendly technologies and initiatives, Prysmian Group has introduced its Eco Cable label. The Eco Cable label assesses products' carbon footprint, the amount of toxic or hazardous materials they contain, the extent to which the materials can be recycled, the amount of recycled material in the cables, their environmental benefits (such as connecting green power sources to the grid) and how efficient they are. The company aims to assess one-fifth of its products using the Eco Cable criteria by the end of this year.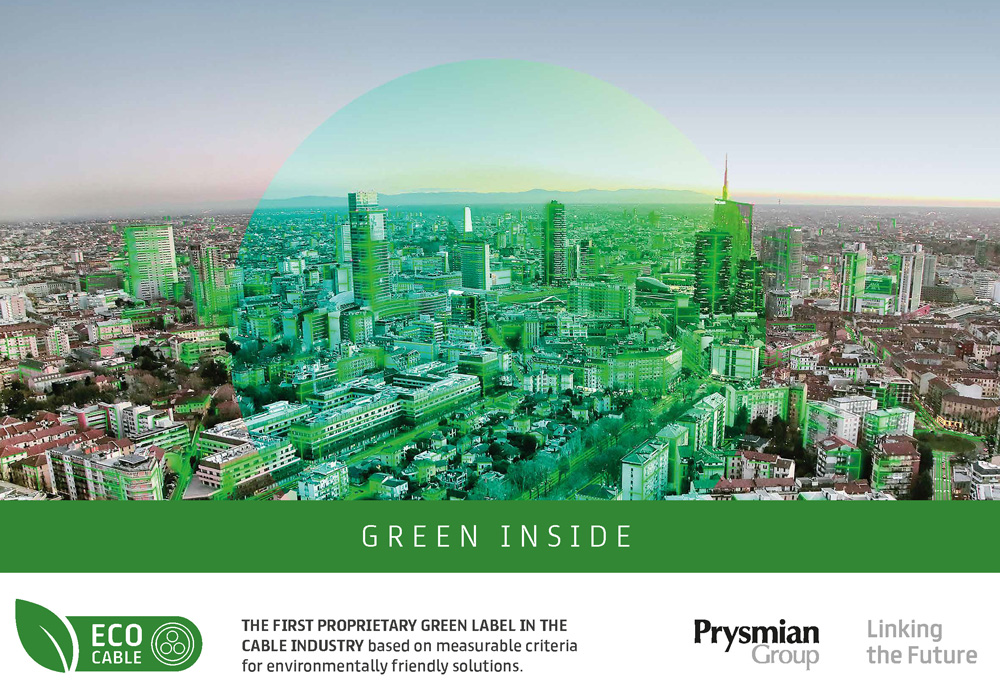 As far as energy transition is concerned, there are two revolutionary innovations in Prysmian Group. The application of the P-Laser technology to underground and submarine HVDC cable systems guarantees superior electrical performance, reduced costs and greater environmental sustainability. The high-depth submarine cables with high modulus synthetic armour will allow installations down to a depth of 3,000 metres below sea level. Both these technologies will help our customers provide decarbonisation throughout the world.
As far as digitalisation is concerned, there are two significant innovations that are receiving a high degree of consensus. The products with Prysmian MassLink and FlexRibbon technology can fit 6912 fibre into a cable, meeting the highest fibre count within the industry, using extremely flexible fibre ribbons that can be compacted to have very high fibre density or left flat for ribbon splicing. Sirocco HD and Sirocco Extreme cables utilizing the world's first 180mm bend insensitive optical fibre provide the smallest diameters and the highest fibre densities for microduct cables. Both these solutions increase fibre density, reduce the use of materials and speed up the installation of more sustainable infrastructures.
Beyond these key research and development areas, we are investing in three pillars of innovation. Prysmian Electronics is creating new technologies for monitoring assets to improve the reliability of the power grids. Corporate Hangar is accelerating innovation through collaboration and is developing new ideas in startups and new businesses. The most recent pillar introduced by the Group is Digital Ambition, which focuses on cutting-edge digital technologies designed to make Prysmian Group a digital leader both in terms of enhancing our employees' digital culture and introducing new digital products.
"In Prysmian Group, we constantly analyse how to improve the materials, cable designs and process technologies", adds Srinivas. "But every company has limited resources and budgets and so it essential to be aligned on the areas with a focus on innovation. We firmly believe that innovation and sustainability are linked. Our mantra in the development of new products is: Lighter, faster, stronger, more ecological. It is a question of making the right choices at every stage of the innovation process without technical, operational or economic constraints. Our collaborative approach to innovation ecosystems is a key factor in our success. Through a more open dialogue with our suppliers and customers, we are able to develop sustainable and reliable solutions and high performance standards. We have just announced that Prysmian is accelerating its race to net zero CO2 emission. We will be investing more than €100 million to reduce carbon in the next 10 years. There will be interesting process and product innovations to fight climate change."