As we come into the final quarter of the year, I am inspired by the progress made through our commitment to sustainability. At the heart of our R&D efforts is a passion to innovate to protect our planet – and to me the mantra of 2021 must be "the greenest energy is the energy we don't consume." Let me explain what this means to us in practice.
Reducing, enabling and innovating
Consuming less energy is key to reducing carbon emissions, and this goes hand in hand with lowering energy bills. We've been developing digital technologies to enable smarter management of the workplace, as well as the home and grid, making them all more efficient.
We're decarbonizing our own facilities and factories by integrating building automation and energy management solutions with solar panels, battery storage and electric vehicle charging points. Our intelligent systems are helping buildings managers around the world take control of loads and energy consumption to lower costs and reduce emissions.
When it comes to our R&D priorities, second to reducing demand is enabling renewable energy proliferation in the grid. Absorbing more solar and wind energy brings more control challenges and our teams are coming up with intelligent solutions. By combining 5G technologies with our innovative digital substation protection and control solutions, we will for example be enabling networks in the UK to accept growing levels of renewable energy.
If we want to achieve our global climate goals, we need to facilitate renewable proliferation in the grid faster. It's as simple (…and complex) as that.
Sustainable materials
Alongside working out what we can reduce, we also look at what we can reuse, and it's the innovation in our use of sustainable materials I really want to focus attention on.
We sell hundreds of millions of products each year containing plastics – small switches, breakers and junction boxes are used everywhere in both commercial and residential applications. These are extremely high-volume products so making them from what would otherwise be waste material has a huge sustainability impact.
Our pioneering move to manufacture some of these items from recycled plastic reduces waste and CO2 emissions, uses the planet's resources more efficiently and strengthens our relationship with customers, who are looking for ever more sustainable solutions.
While the materials and products themselves may be invisible to most of us, they are there nonetheless, helping make a better world one contribution at a time.
Diverse collaboration
It's safe, smart and sustainable developments like these that I want to celebrate while remembering the importance of collaboration. Over the next few months, my R&D colleagues will be sharing their perspectives on the innovations they're championing, highlighting the diversity of thought inherent to any innovation.
You can't solve a complex problem unless you look at it from all angles and we need everyone on earth to work together to solve our global challenges. A sustainable future must be for everyone, and we'll only achieve it by working together.
Read more about Sustainability at ABB.
#sustainabilty #abb #abbelectrification #smartbuildings #circulareconomy #preserveresources
---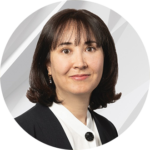 Author: Amina Hamidi, CTO ABB Electrification