Driven by the goal of continuous development, TRILUX has consistently followed the same philosophy: to improve light for people and the environment.
Environmental protection and the conservation of resources are firmly anchored in the TRILUX DNA; this is self-evident for us as a business. We align the actions of our organization to this in all core areas, and not only since measures against climate change have been demanded by law and society in general. We also work consistently and continuously to improve our carbon footprint, and our German production sites will achieve climate neutrality as early as 2025.
It's time for sustainability in day-to-day business
Whether downlights, suspended luminaires or highbays – the TRILUX twenty3 wholesale portfolio offers attractively priced solutions in proven TRILUX quality for all lighting challenges and now a clear step towards more sustainability in day-to-day business: the twenty3 portfolio is also contributing to the goals set.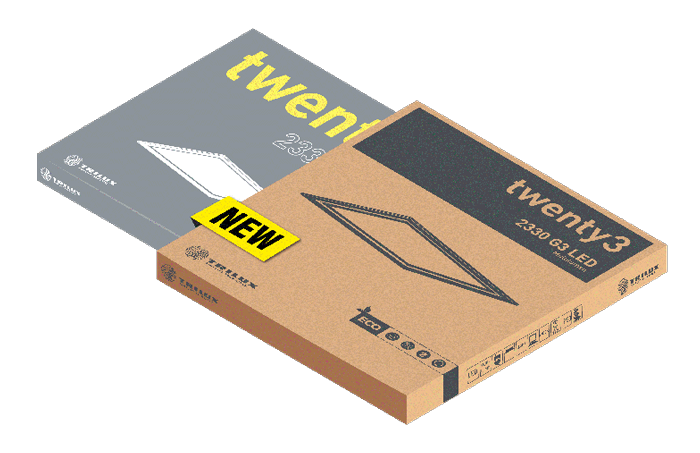 As a first step on our sustainability roadmap we have developed a new, sustainable packaging concept for twenty3. New boxes are made exclusively of cardboard or paper and are 100 percent recyclable. This protects the environment and significantly reduces packaging-related CO2 emissions.
To continuously improve our carbon footprint, we consider the entire value chain of the twenty3 portfolio. Climate-protecting processes in production, management and transport are one facet. Another is constant development in the sustainability of lighting solutions, in order to maximally reduce CO2 emissions.
With the downlight 2325, the first twenty3 series has two sustainable luminaires with verified CO2 compensation in its portfolio: 2325 S. More product families will follow to reach our goal and offer sustainable luminaires with verified CO₂ compensation for all series in the twenty3 portfolio by 2026. But also other aspects, like improvement of efficiency as well as replaceable and recyclable components play an important role to make a twenty3 product sustainable.