In 2022, we continued to conduct our business with a strong focus on sustainability while building the global power grid essential to the green transition.
Internally, we continue to operate all factories and most offices using renewable electricity and have further reduced the carbon footprint from our operations. Here, we have a near-term target to reduce the corporate CO2 emissions by 90% in 2030 compared to 2019 despite of a substantial increase in our activity level. We are well on our way to meeting this target with a 79% reduction already achieved. The next steps are to stop all use of natural gas and complete the transition to fossil-free fuels.
As a central player in the power sector, we are obliged to lead the way towards a more sustainable future by engaging in dialogues with key stakeholders in the industry. In 2022, we were a founding member of the Powering Net Zero Pact, where we join forces with other companies to decarbonize the energy sector, and we engaged in discussions for a more sustainable sector at COP27 in Egypt. It is a long, transformative journey, and collaboration across the value chain is essential to succeed.
NKT executes the long-term strategy ImpACT for resolving global sustainability challenges in support of the Paris Agreement. ImpACT sets the direction and documents the progress on sustainability in NKT. It is anchored in three main pillars founded on responsible business processes.
We run several environmental programs (few examples):
1. Natural gas-free operations
Phasing out natural gas from seven factories by replacing it with sustainable energy sources such as renewable electricity, solar power and biogas.
Target: no use of natural gas by 2030.

 Progress:

Reduction of natural gas consumption by 37% compared to 2021
35 individual local replacement projects identified
Relevant investment program initiated to remove natural gas
2. Energy efficiency
Energy efficiency actions incorporated in the corporate strategy to ensure ongoing focus and progress.
Target: continuous improvement of energy efficiency.

 Progress:

Replacement of light sources by LED
Optimization of capacity settings
Reduction of leakages of compressed air in production
Switch-off initiative reducing electricity consumption
Temperature reduction and insulation check at several sites
Precision temperature check and set-up at several sites
3. Transition to alternative fuels
Executing on program initiatives to phase out diesel for internal logistic vehicles and stationary equipment by 2027 and aims to transition the company fleet to electric/hybrid vehicles by 2025.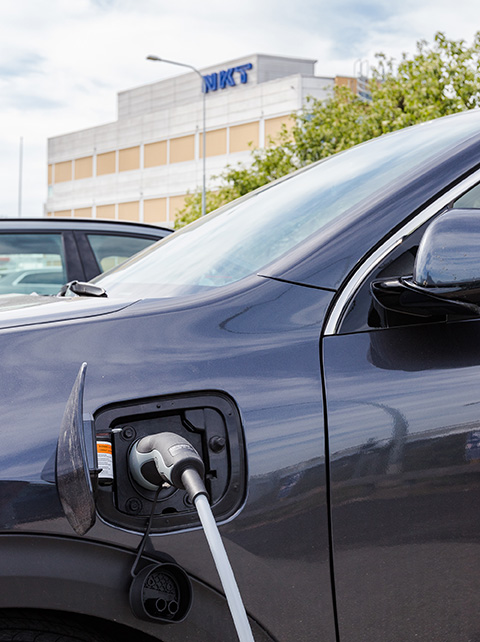 Target: fossil-free fuel for land-based vehicles by 2027.

 Progress:

Internal car policy implemented, with a stepwise introduction of electric cars in the company fleet
Electric chargers have been installed at several sites
Transition to internal logistic vehicles and stationary equipment powered by electricity or biofuel is in progress
In 2022, the fossil fuel usage for vehicles increased across sites in the aftermath of COVID-19 restrictions
4. Supplier engagement program
A supplier engagement program addressing emission reductions in more than two-thirds of the corporate scope 3 emissions related to 'purchased goods & services'. The program focuses on metals and plastic suppliers identified as having high climate and environmental risk exposure as per the materiality assessment conducted. The main objective of the program is to create transparency as regards suppliers' climate maturity and develop strong collaboration and decarbonization processes along the value chain.
Target: 100% of suppliers in engagement program have scope 1 and 2 emission reduction target by 2025; 75% of suppliers in engagement program have scope 3 emission reduction target by 2025; 75% of suppliers in engagement program offering low-carbon alternative material incl. EPD/LCA by 2025.

 Progress:

Supplier engagement program launched, first priority decarbonization
Supplier climate requirements implemented. Evaluation of the maturity of the suppliers in the program completed
Ongoing proactive approach and dialogue, enabling key suppliers to mature on their decarbonization journey
Implementation of low-carbon alternative materials in cable solutions.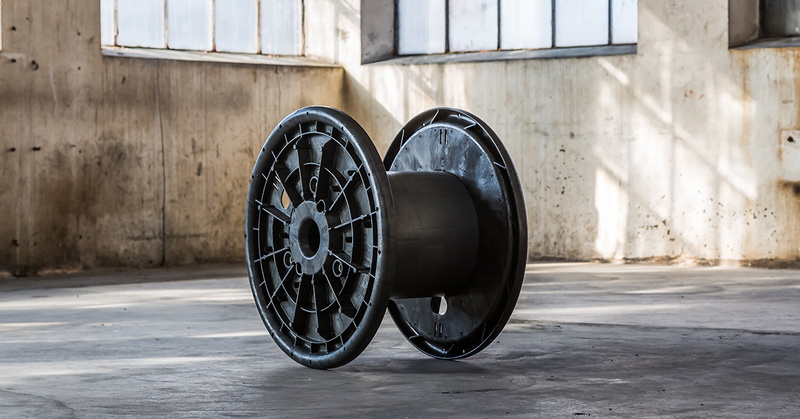 NKT recycling XLPE cable drum
5. Recycling of XLPE and PE
Eliminating waste, and progress is based on a long-term focus on the reuse and recycling of cable scrap and other materials.
Target: ≥ 90% of production waste diverted to recycling or reuse by 2028.

 Progress:

Successfully developed mechanical recycling of cross-linked polyethylene (XLPE) as the first company in the power cable industry (2020)
Developed new methods for recycling the remaining mixed fraction of materials from production to give them a second life in new applications and products such as flowerpots, cable drums and construction material (2021)
Initiated pilot project to decrease the carbon footprint from cable production by investigating methods to replace a substantial part of the materials used with recycled polyethylene (2021).
Continued pilot project (2022).
6. Waste elimination and increased circularity
Eliminate waste directed to landfill, reduce the waste directed to incineration and increase waste and materials diverted to recycling and reuse.
Target:

≤ 1% waste directed to landfill and incineration by 2026
≥ 90% of production waste diverted to recycling or reuse

 Progress:

Maintained level of waste diverted to reuse, recycling and composting at 80%, same as in 2021
Diverted 4% more waste to incineration with energy recovery than in 2021
Reduced diversion to landfill to 1.56% of total waste generated
Developed cross-functional waste and circularity strategy and initiated measures to improve waste-related business intelligence.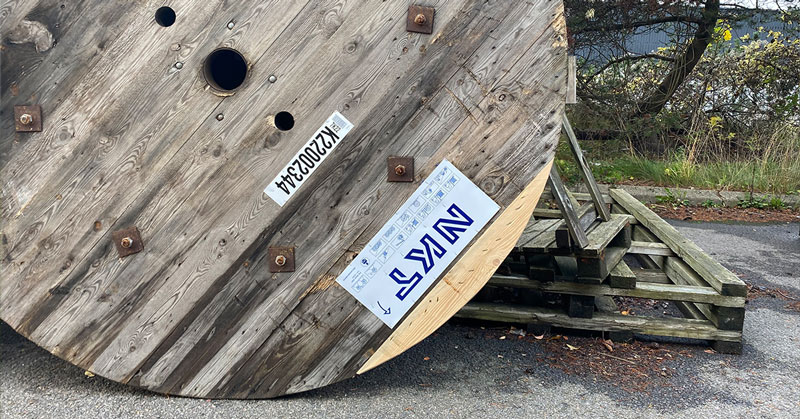 NKT drum take-back program
7. Take-back program
The first drum take-back started program in Denmark more than 30 years ago. Today it has grown to a deposit refund program covering both wooden drums for medium voltage cables, 1 kV cables and low voltage cable drum trolleys, Qaddy®. Each drum has a unique bar code and one drum is usually reused 7-8 times. During its lifetime, it is repaired and the Qaddy® is also washed before being put into use again.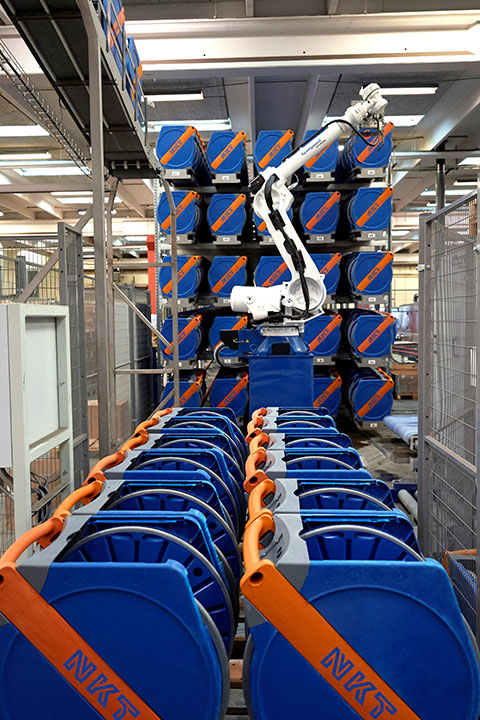 Target: continue develop the take-back program with the aim to increase circularity and logistics efficiency.

 Progress:

A total of about 100 000 wooden drums and about 42 000 Qaddy® are in circulation in Denmark, Sweden, Norway, Finland and UK
About 10% of the wooden drums and 65% of the Qaddy® -trolleys come through the refund/reuse system every year
At the end of their lifetime – when the drums cannot be repaired any more – they are either recycled, incinerated with energy recovery or donated to the Red Cross for disabled people, who make new items from them.
Responsible partner and employer
Part of our sustainability journey is to continue our aspiration and efforts to be a fair and responsible partner and employer. We have a strong focus on health and safety while safeguarding human rights and work to empower people across the organization, the industry and in local communities.
As a leading company in the power cable industry, a high-performing, diverse and inclusive organization is a key enabler for our growth ambitions. This makes attracting, developing and retaining talents and employees a high priority area for NKT. In 2022, we have continued to strengthen our focus on talent management, diversity and inclusion.
We remain committed to conducting our business in accordance with the principles of the UN Global Compact and look forward to continuing to support the necessary acceleration of the green transition. Our commitments and actions to contribute to a low-carbon economy through minimizing the corporate impact and providing a central product to the energy transition attracts the necessary talent and investor support to meet the corporate growth trajectory.
Minimizing NKT's sustainability impact is central to the customers' success and their respective sustainability journey. Sustainability actions contribute to the company's competitiveness and increase chances to become preferred supplier.
Environmental Product Declarations (EPDs), which describe the environmental impact throughout the life cycle of our products, are important requirements of our customers. We are therefore pleased to announce that the first declarations are now externally validated and published.
Through the product portfolio, NKT is positioned as a central contributor to the electrification of society and the energy transition towards renewable energy supply. The demand for renewable energy might see a tipping point in the medium-term.
Investments into decarbonization action (e.g. 100% renewable energy, natural gas phase out) decrease the overall cost in comparison to previous configurations and accounting for increasing carbon prices.
Planned and committed renewable energy capacity will increasingly materialize. NKT is well positioned to seize opportunities from the energy and low carbon economy transition.